Kramarczuk's stays true to our original methods, which were developed over fifty years ago, we mean it. Each one of our more than forty varieties of sausage is still made the old-fashioned way with the same attention to quality and taste demanded by our founders.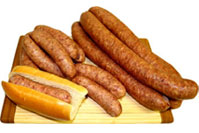 Polish Sausage
Medium ground pork and beef sausage seasoned with garlic and black pepper then smoked with real hickory smoke. This is a very traditional sausage also known as "Kielbasa" that will compliment holiday dinners and impress neighbors at your backyard bbq.
---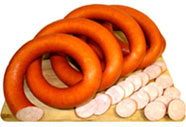 Krakowska Sausage
One of most popular sausages, Krakowska is made from hand trimmed pork loins which are combined with a perfect balance of spices including garlic and white pepper. This sausage is ready to eat and is best served with cheese and crackers (also available sliced as a luncheon meat).
---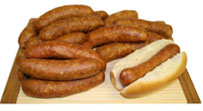 Smoked Bratwurst
The most famous German sausage ever made. Nutmeg, mace and white pepper combined with pork then smoked make it an excellent grilling sausage, and it is fantastic when served with a good glass of German beer.
---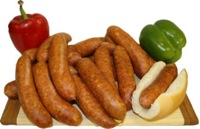 Andouille
Prepare your taste buds for a spicy burst of flavor. This Cajun specialty sausage is made with cayenne pepper, which makes it excellent on its own, in gumbo stew or a low country boil with seafood.
---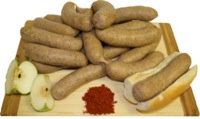 Chicken French Apple
A unique blend of apples, chicken, paprika, and parsley. A sweeter sausage, it is often eaten on its own, but also tastes exceptional in a bun with any kind of condiment.
---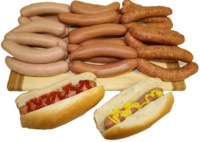 Hot Dogs
These aren't your average ballpark franks. Each is made with 100% meat and absolutely no fillers whatsoever. Stuffed inside a snappy casing Vienna: Fine ground all-pork. This turn of the century recipe has been passed down for 100 years. Perfect for kids, its flavors are mild. Chicago: Fine ground all-beef, and flavorful. Old Fashioned: Coarse ground all-pork the traditional flavor of German butcher shops.
---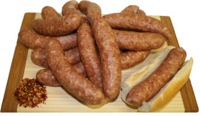 Italian
Crushed red pepper and garlic makes this medium spicy pork sausage great in spaghetti and pizza.
---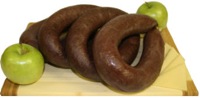 Kishka
An authentic polish specialty, Kishka is made with buckwheat, fine ground pork, a little beef blood then seasoned with sage for a unique, yet delectable medley of flavors. Great as a breakfast hash.
---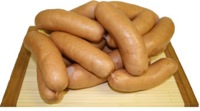 Knackwurst
The fine ground texture of this sausage is enjoyed after the "knack" of the first bite. Enjoy its mild flavor in salads, with potatoes, and with spaetzel.
---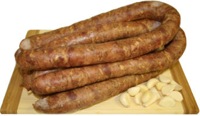 Ukrainian
Fresh ground garlic cloves and black pepper complement hand-selected cuts of lean pork. This sausage is for those who want to experience the most traditional Ukrainian sausage we make.
---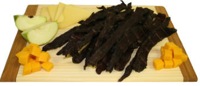 Beef Jerky
We use the leanest cuts of whole muscle beef, marinate them overnight in our famous proprietary recipe and then smoke them which results in a distinctly flavorful and chewy treat.
---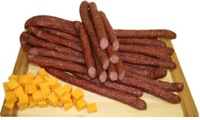 Beer Sticks
A Kramarczuk's favorite! These traditional East European beer sticks are made with beef, pork, garlic, and pepper which make them an excellent snack. They also taste great when accompanied with beer. We also have a spicy variety!