There's always room for dessert, especially when it's one of ours. We have an excellent selection of delicious East European pastries, plus our tortes are absolutely scrumptious. For the ultimate experience, try our Kramarczuk Torte, which is the only torte that could be worthy enough to bear the Kramarczuk name.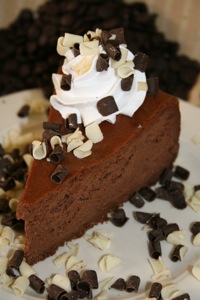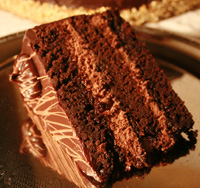 All desserts are made on location from scratch each day. Tortes served by the slice. Whole tortes are available next door in our bakery.
Kramarczuk Torte
Layers of chocolate cake with hints of raspberry and hazelnut, chocolate mousse, and dark chocolate ganache.
Walnut Torte
Layers of walnut cake surrounded by creamy walnut and coffee buttercream.
Chocolate Symphony Torte
Fluffy layers of chocolate cake surrounded by chocolate cream and chocolate ganache.
Chocolate Truffle Cheesecake
Our creamy cheesecake made with German chocolate.
Cherry Cheesecake
Creamy cheesecake with cherry preserves.
Napoleon
A flaky rectangular pastry with vanilla custard filling.
Kolachi
Filled pastry. Assorted flavors.
Cream Puffs
Choose from Bavarian creme, vanilla, or chocolate mousse.
Apple Strudel
A flaky pastry with apple, coconut, and walnut filling.
Ice Cream
Assorted flavors from a local creamery.